5 Step Guide to
Playworks
Overview
"Welcome to the ChangeX Playworks Guide! We're delighted that you're thinking about getting Playworks started in your school. Here you can learn step by step how you can get started. We're here to help at every stage of the process so don't be afraid to get in touch!" - Jill Vialet, Founder of Playworks
---

Time
3-4 hours to complete the Recess Checkup and some of the online courses that will allow you to get started with Playworks during your school recess.
---
Learn more about why it works
Before you decide to get started with Playworks in your school you'll want to know that it really works!
Playworks is an evidence-based program and numerous evaluations have been carried out showing the positive impact including reduced bullying, improved feelings of safety, increased physical activity and more time for classroom teaching.
You can check out further research on the importance of play on the Playworks website: Further research.
If you have ten minutes, watch this video from Playworks Founder Jill Vialet speaking about the power of play:
---
Take the Recess Checkup
It can be hard to understand the impact that your play space has on your school's culture and your students' experience. And while there are a lot of solutions worth trying, it's tough to know what's working and what's not.
That's why Playworks has created the Recess Checkup – an online quiz designed to help you identify strengths and uncover areas for improvement. This three-minute check-up will help you understand what's really happening in your play space. And don't worry – your results are entirely private and confidential!
The Recess Checkup will lead you through the 3 areas most essential for all schools – safety, empowerment, and engagement. Answer questions about what's happening in your school, and see how you're doing and how to take steps to ensure a safe, active, and fun play culture.
Once you've completed the Checkup, you can get a free consultation with one of our play experts, based on your assessment results and receive tailored recommendations for making improvements where they're needed the most!
Take the Recess Checkup now
---
Take an Online Course
Playworks is playfully testing new online mini-courses. All courses are free during the testing phase and they're designed to get you started quickly; expect to spend 5 to 15 minutes per course.
The courses are divided into 4 main areas:
Manage Groups - Struggling with behavior issues in class? Learn how to proactively manage students through play.
Facilitate Games - Need more play in your day? Discover how to use games to reinforce key social, emotional, or academic outcomes.
Resolve Conflicts - Help students resolve their own conflicts before they escalate. Try using the game Rock-Paper-Scissors as a tool.
Build a Better Recess - Helps students discover the joy of active play and come back to class ready to learn.
Find all the online courses right here

---
Start Playworks on the Playground
You've identified areas for improvement, you've taken some online courses, now the exciting part. You're ready to get started!!
Playworks provides you with your very own Game Guide which provides you with lots of new games to play and experiment with in your school. Remember it'll take some time for everyone to get the hang of it but don't worry the benefits will pay off!
It's pretty simple:
Every kid plays. On our playgrounds, everyone plays, everyone belongs, and everyone contributes to the game.
Get your Game Guide
The Playworks Game Guide contains hundreds of games that have been tested and approved in Playworks' schools for 15 years, nationwide.
Use the Playworks Game Guide to find the perfect game for your students. Take into consideration things like: ages of children, skill level, group size and outdoor or indoor space. Most importantly, don't just teach your kids to play; but play with them. Model the type of behavior you would like to see from them.
---
Arrange Onsite Visit or a Consultation
Once you've tested out some of the Playworks techniques and games for some time in your school, speaking to a Playworks Coach will probably be very helpful. You can do this through a phone call or depending on where your school is situated, a Playworks Coach can visit your school to give you more tips and guidance on creating and maintaining a safe and healthy recess.
They'll also give you details on further training opportunities to help you and your school continue to improve and develop recess.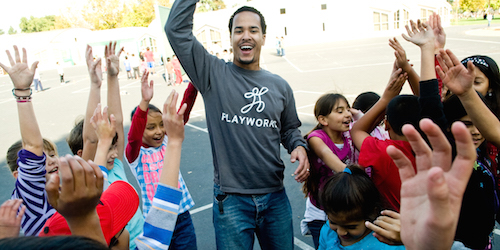 ---