5 Step Guide to
Playworks
Overview
"Welcome to the ChangeX Playworks Guide! We're delighted that you're thinking about getting Playworks started in your school. Here you can learn step by step how you can get started. We're here to help at every stage of the process so don't be afraid to get in touch!" - Jill Vialet, Founder of Playworks
---

Time
3-4 hours to complete the Recess Checkup and access free, online resources that will allow you to get started with Playworks with your kids
---
Learn more about why it works
Play really works and it works for all kids!
Playworks is an evidence-based program that helps kids learn social and emotional skills, increases physical activity and contributes to learning.
You can check out further research on the importance of play on the Playworks website: Further research.
If you have ten minutes, watch this video from Playworks Founder Jill Vialet speaking about the power of play:
---
Complete the Recess Checkup
It can be hard to understand the impact that your play space has on your school's culture and your students' experience. And while there are a lot of solutions worth trying, it's tough to know what's working and what's not.
That's why Playworks has created the Recess Checkup – an online quiz designed to help you identify strengths and uncover areas for improvement. This three-minute check-up will help you understand what's really happening in your play space. And don't worry – your results are entirely private and confidential!
The Recess Checkup will lead you through the 3 areas most essential for all schools – safety, empowerment, and engagement. Answer questions about what's happening in your school, and see how you're doing and how to take steps to ensure a safe, active, and fun play culture.
Once you've completed the Checkup, you will receive your assessment results and recommendations for making improvements where they're needed the most!
Complete the Recess Checkup here
---
Try a proven, playful technique
At Playworks we know, from 25 years of experience on playgrounds in the US and internationally, that a few, foundational approaches to play can transform the experience for kids.
Here's one to try: All play spaces benefit from positive languge, by adults and kids. Watch this short video
to learn how we use positive language at Playworks. Then try it out with your kids!
---
Explore Playworks' solutions
Now that you've tried positive language, we have so many more ideas for you! Scroll through the list or use filters to look for specific solutions that fit your situation. Click on any to find detailed explanations, video instructions, tips, visuals and more - including what you can try this week.
Explore the Recess Lab Resources
---
Transform your recess
Now put it all together! Think about which element(s) of play you want to focus on, what you've learned (about why play works and how to create a safe & healthy play environment) and what worked when you gave it a try. Make a plan for what else you want to implement and where you want to go next.
Here is a template to help you plan
You can sign up for an online Playworks coaching session on the Playworks website and find lots more resources and support.
For more inspiration and tips, check out the Playworks Youtube Channel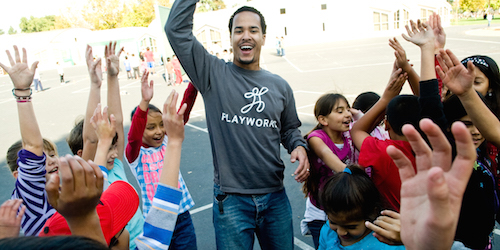 ---