5 Step Guide to
FIRST LEGO League - Challenge US
Overview
"Welcome to FIRST® LEGO® League on ChangeX. FIRST® LEGO® League Challenge brings science, technology, engineering and math (STEM) to kids, (grades 4-8, ages 9-14) through fun and exciting hands-on learning. FIRST® LEGO® League Challenge participants gain real-world problem-solving experiences through a guided, global robotics program, helping today's students and teachers build a better future together. This guide provides an overview of what's involved in getting the program up and running in your school or community group. By completing the 30 Day Challenge here on ChangeX, you can access funding to cover the costs of the program. The team at FIRST will support you through the process in your school. " - Kaitlin Ilnitzki, Assistant Director, VA+DC FIRST LEGO League
---

Time
This can be done during curriculum time in 1 lesson per week
---
Register with FIRST
As you work through your 30 Day Challenge on ChangeX, you can go ahead and register officially with the FIRST to participate in the 2020-21 RePLAY season! You can register through this link.
Once you've registered, you'll receive a welcome email from the FIRST team and your Class Pack provides enough equipment for 30 children containing:
2 x Challenge Sets – season themed field mats and exclusive sets of LEGO® elements to build season-specific mission models.
1 x Class Pack Guide - guidance, management tips, and best practices for how to implement the program and instructions on how to run your own tournament.
2 x Team Meeting Guides - guidance and lesson plans on how to run 12 sessions and end with a celebration event. It includes learning outcomes, tips, clean-up pointers, and checkpoints to monitor the teams' progress.
10 x Engineering Notebooks – team workbooks to record ideas, notes, and sketches. Each workbook provides a guided 12-session experience, including an introduction activity, session tasks, and concluding with the teams sharing what they learned and accomplished.
5 x Robot Game Rulebooks - everything needed for the robot game. Contains field set-up instructions, mission descriptions, and the rules teams must follow.
30 x LEGO® medals and lanyards
1 x Build your own Small LEGO® Trophy
---
Order a LEGO EV3 Mindstorm or LEGO Spike Prime
Purchase your 4 x LEGO Education SPIKE Primes here. You will also need access to compatible devices to download the SPIKE Prime programming software.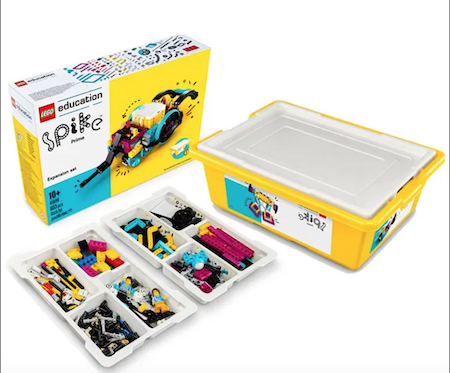 ---
Receive Class Pack and your kits, read through Team Meeting Guide and get your equipment ready
Once you receive your Class Pack and SPIKE Primes as well as all the information in your welcome email, you'll be almost ready to go. Have a read through your Team Meeting Guide in your pack and plan your first session by having a look through all the kit and resources online!
---
Run your first session!
Now you're ready to go with your very first session. Keep working through all of the resources on the FIRST website to make sure you have all you need.
---