Overview
"Welcome to Open Orchard! Open Orchard provides a way for people to come out, plant a fruit tree and in so doing connect with neighbours and care for the environment. Below you'll find all the information you need to get started! " - Wayne Trevor
---

Time
You will need approximately 5 hours per week to start an Open Orchard group and then the time required will vary throughout the year: approx 7 hours per week around planting and harvesting and less then 1 hour at other times of the year.
---
Get Started
Assemble an Open Orchard team
The most successful community groups are a collaborative effort, plus, it's far more fun if you've got support and can share the workload! Find other interested people to help you. Rally your friends, family and neighbours. Ideally you will have a team of 3-4 people. This way you can assign different roles to each person, including contacting your local authority, sourcing trees, applying for funding/grants and spreading the word in the community.
---
Contact Your Local Authority
The most important step is to get in touch with your Local Authority to obtain their permission to plant fruit trees in a public space and to seek their advice on where is the best place to plant. There is no point in progressing anything else until you have the full buy-in of the local authority, as the location of planting will dictate the type of trees you will plant.
In Cork and Dublin cities, the point of contact is the Parks Department and in other local authorities it is the community section. See a full list of all local authorities here.
---
Choose and source your fruit trees
Which trees?
Once you have agreed with your local authority on a location to plant the fruit trees the next step is to decide on which type of fruit trees you will plant. The Irish Seed Savers Association, who conserve and grow heritage apple and other fruit trees, can give you advice on which types will best suit your location and they also sell bareroot trees from October onwards. You can find their contact information here.
Funding
There are some costs involved with planting fruit trees, such as:
1) the bareroot trees 2) stakes 3) tree ties 4) tree guards or wire mesh (which are necessary in all but the most protected of locations)
These costs will vary depending on tree and guard types, but the approximate cost per tree planted is €35-€45. To source funding to cover these costs you can try the following:
- Your Local Authority- they sometimes have small grants for community groups. The Heritage Officer in your local authority can be a good place to start.
- The Heritage Council - they sometimes have grants for community projects - see details here.
- Crowd-funding - can help to build a community for your project.
- Gift-a-tree scheme. At Christmas (end of Nov) you can offer local people the chance to 'buy a tree' which you can then plant (with them if they like) in your Open Orchard. A tree planting experience is a nice gift!
- Local sponsorship - ask local business if they would sponsor some fruit trees- you could thank them on signage in the Orchard.
Insurance, finance and governance
● If you are applying for grants, some may require a formal organisation, bank account and proper insurance. The simplest way of doing this is to set up an unincorporated association, a very simple form of community group. You just need to make a simple constitution (draft constitution is on the resources page) that sets out who you are and what you do. If necessary for the grant you can also set up a bank account and buy an insurance policy. If you can arrange to use the local authority's governance, finance and insurance, this is much simpler to get going with! Alternatively consider if a local existing organisation could be the 'sponsor'; for instance the local Business Improvement District, Groundwork group or local community project.
● Health & safety is really important- but don't let it sink you. You can use the risk assessment document (in the resources page) and tailor them to your own needs. Make a simple guide for people who come to plant -the key information on 1 page will do, and it can be laminated for reuse. It could contain important info, such as 'keep space between other people who are working'; 'don't leave tools on the floor'; 'take care with lifting- bend from your knees and watch your back'- the sort of things that are useful to remind ourselves of on a regular basis.
---
Organise and hold the tree planting day
This is the best bit! Spread the word in your community - encourage people to come out to help to plant the fruit trees. Put posters up in local halls and shops, spread the word on social media, let local community groups, retirement homes and schools know.
Bare root fruit trees are planted in the dormant season, usually either just after the first frost in late Autumn or in January/February (depending on the weather and location - Irish Seed Savers can help you to decide). Open Orchards in London have found that late Jan and most of Feb is an ideal time to plant, as people tend to be available in the post-Christmas lull and are looking for opportunities to get out and about. Aim to organise a 2-3 hour session, where you plant about 10 trees- ideally with the opportunity for tea and a chat afterwards (if you can do this indoors, then even better!).
Have someone to take photos- it's a great way of showing the great stuff you're doing and perfect for other funding bids. A 'signup' sheet is essential too- get people's names and email/phone so you can create a mailing list and add them to your ChangeX page.
For some useful tips on planting fruit trees, check out Open Orchard Co-founder Wayne Trevor's video here here and the Irish Seed Savers helpful planting guide. Irish Seed Savers also hold regular workshops on planting and maintenance.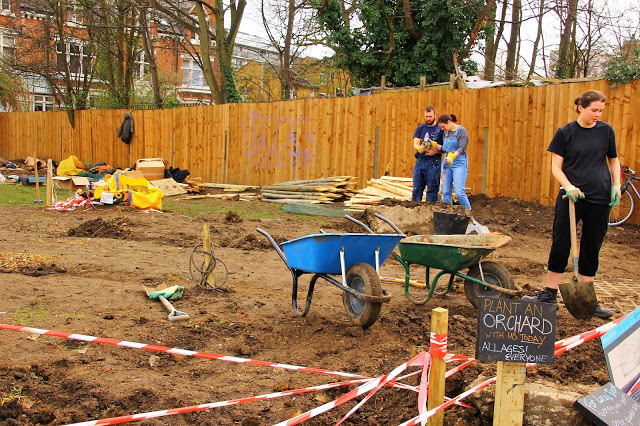 ---
Ongoing care by the community
This is the most important step! In order to keep your fruit trees healthy they need some care and attention from the community, especially over the first couple of years. The essential thing is regular watering in the summer months, and you may even have to water during rainy weather in the first 6-8 weeks as the roots have not established good contact with soil moisture. It is also important to keep the tree area free from weeds, as these compete from nutrients.
Organise within the group who will take responsibility for watering the trees, maybe you can make a weekly/monthly rota! Some ideas for events you can plan around the year, to keep the group interested and invested are: weeding, mulching, wassailing, blossom watching and harvesting
The Open Orchard aftercare leaflet, found on the resources page gives some great tips.
Ah harvest time, if you have any unused fruit
http://www.fallingfruit.ie/
Falling Fruit
have resources for picking unused fruit and distributing it to charities.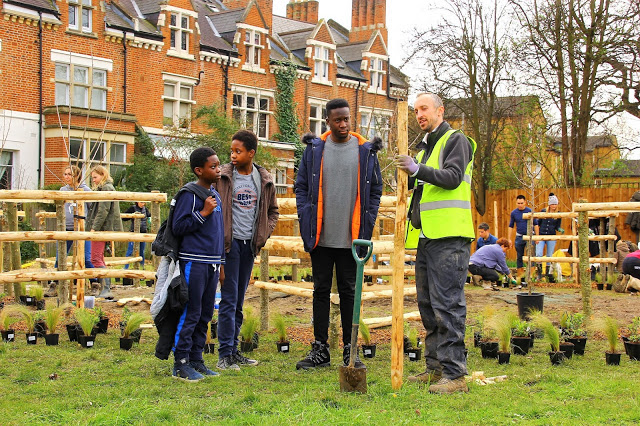 ---