Overview
"At KABOOM! we know that every child needs an amazing place to play. Join us by turning everyday spaces into playspaces in your local community." - Lysa Ratliff, CEO, KABOOM!
---

Time
The time commitment will vary depending on the scope of your project and the team involved. Typically, teams complete within 3 months with 4 hours a week time commitment.
---
Discover what's possible
In 2016, KaBOOM launched the Play Everywhere Challenge to source the best ideas from across the US for creating playful cities and neighborhoods.
They had over a thousand applications for community based projects that could inspire play for the kids that need it most. Since then, they've developed an extensive Playbook on how to create Play Spaces anywhere. The Playbook includes design guides for streets & sidewalks, parks & trails, transit & civic spaces. There are also multiple case studies that detail how this worked in various communities.
In this guide we're going to focus on Streets & Sidewalks as the public right-of-way is crucial to fostering Play Everywhere and kid-friendly cities. Streets and sidewalks—and, by extension, the pathways, alleys and staircases that bisect city blocks—form the faces and front (or back) doors of our communities. These are the places where we interact and conduct the business of daily life, and where kids come into contact with, learn from and learn how to navigate the adult world. Reclaiming streets, sidewalks and mid-block connections as places for play brings kids front and center in our communities, while serving as a reminder to the broader community that cities are places for kids, too.
In this Design Guide, you'll find design principles, images and practical supports to help you transform an area in your community into a Play Everywhere space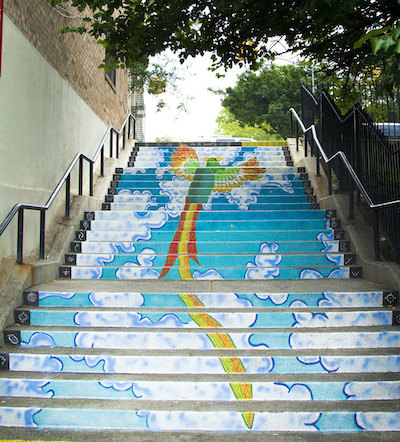 ---
Understand what's important - The Fundamentals
Every day spaces become PLAYces when they are…
Convenient
Make it easy for kids & families to "play along the way".
Inviting
Permission to play is obvious & intuitive – giving kids and families the sense of comfort they need to play freely
Unifying
Bring communities together through play by designing spaces that reflect the whole community & draw visitors from all walks of life
Shared
Turn play installations into social spaces where kids, families, caregivers & the broader community can comfortably come enjoy play together
Challenging
Incorporate a variety of activities for kids to stretch their minds & their bodies
---
Start with YOUR community
The best projects often come from within. So, talk to kids and families in your community. Find out how they play, as well as how they move through their daily lives. What do they find convenient, inviting, or inclusive? Understand their needs, habits, and challenges, and identify a problem you want to solve. At this point, engage in conversations with community groups, nonprofits, and local government, too. They may have a perspective on the issue and ideas for potential solutions.
Build on what already exists
When possible, don't start from scratch. What does the community already have that can support your play idea? Is there an underused feature in the built environment? Or a community group with the time, resources, or connections to bring your idea to life? By keeping installations affordable and low‑maintenance, you'll increase your odds of success—and enable replication by a range of communities, supporting our vision of inclusive play.
Co‑create
Involve your community partners throughout the creative process. Test your ideas with kids and families early and often, and adapt your approach based on their feedback. Consider building a prototype or pilot to see how people react. Getting the right people to design with you will lead to ideas that are truly inclusive and reflective of the community.
---
Find local champions
Who within the community can help build or sustain your project? Find people who have access to the permissions, materials, funding, or other support you'll need, and get them on board early. A city government contact is often helpful; community organizations and businesses can also serve as your project's hosts, funders, or stewards. When building these relationships, communicate your project vision and focus on finding shared priorities.
---
Put your plan into action
This is the fun bit!! Getting to action!
The team at KABOOM! will support you in finalising your plan and ensuring you have all you need to follow the design guide to transform a street or sidewalk in your community.
Here are some general principles to keep in mind:
Embrace change and flexibility
What you end up building may not look like the idea you had on day one. That's normal—and often good! Plans will evolve based on feedback you get from the community. You may also need to change your approach when faced with barriers—perhaps to clear a liability concern, or to convince a new partner. Focus on what is essential to the impact you are trying to create for kids, families, and your community, and be flexible on the rest. Plus, there's always room for bigger and better next time.
Think long‑term
Anticipate issues you'll face down the line and factor them into your initial planning. Who will handle maintenance and how much will it cost? Will you want to replicate this installation someday? By confronting these questions early on, you'll start devising creative solutions that can strengthen the long‑term viability of your project.
Find owners
Encourage members of the community to take ownership of the installation. Try to secure this commitment prior to your build. Identifying a "host" who is responsible for maintenance can help ensure the space you've created remains as inviting and enlivening as you intended. Informal, collective efforts—such as a neighborhood watch or community policing—can also make a difference.
---