Overview
"We want to help you avoid single use, reduce waste, maximise recycling and empower you to become a plastic free ambassador for your community. You can lead by example by showing what can be done to turn the tide on plastic and have fun doing it!" - Dr Tara Shine and Madeleine Murray, Co-Founders of Plastic Free 4 Schools
---

Time
You can use the planning document to incorporate this programme into the work assigned to your pupils. It is not necessary to complete all 8 lessons but upon doing so, the pupil will receive a Certificate of Participation.
---
Assemble a Team
The first step is to get a small team together. The most successful projects are a collaborative effort, plus, it's far more fun if you've got support and can share the workload!
If your school has a Green Team be sure to link in with them - they might be the key to finding other interested people in your school to help you and they will most likely be those that monitor the three actions once the project is up and running. There's no point in having multiple committees in your school doing similar work - much better to pool your energy and talents! You'll need a team of about 3-4 people, and also buy-in from the school principal. Assign different roles to each person, including visiting each class, designing a workshop, internal communications in the school, linking with the wider community.
---
Visit classrooms and get the whole school involved
Plastic Free 4 Schools is a whole school effort, so everyone needs to make the decision to get involved and help out. To make sure it is fully participatory you need to visit each classroom and let everyone know what you are planning and encourage the students to ask questions and make suggestions. Tell them about the three actions:
Encourage reusable Water Bottles
Say no to plastic in lunch boxes
Become a Plastic Free Ambassador in your community
There are lots of posters available in the resources section to help you communicate why it makes sense for your school to become plastic free, and what everyone can do to help the school achieve the three actions. At each classroom visit ask everyone to commit to the 3 actions and (with the teacher's permission!) put some posters up in the classroom.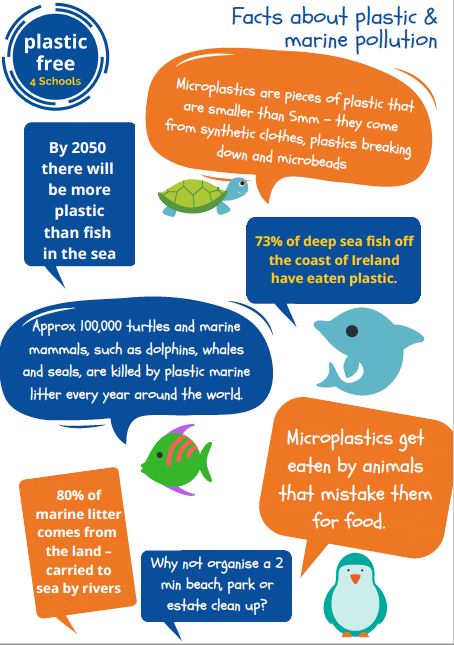 ---
Communicate with the wider school community
This project will only be a success if it has support from the wider school community, particularly parents and guardians, as they will be involved, for example, in reducing plastic in lunch boxes, and in supporting the children as they spread the message in the wider community. Communicate through any and all mediums that the school usually uses, for example the newsletter, website, Whatsapp and Facebook groups. In these communications you could include the three actions, any updates on how the school is taking action e.g posters the kids have made, and any results achieved e.g. a reduction the volume of plastics in the bins.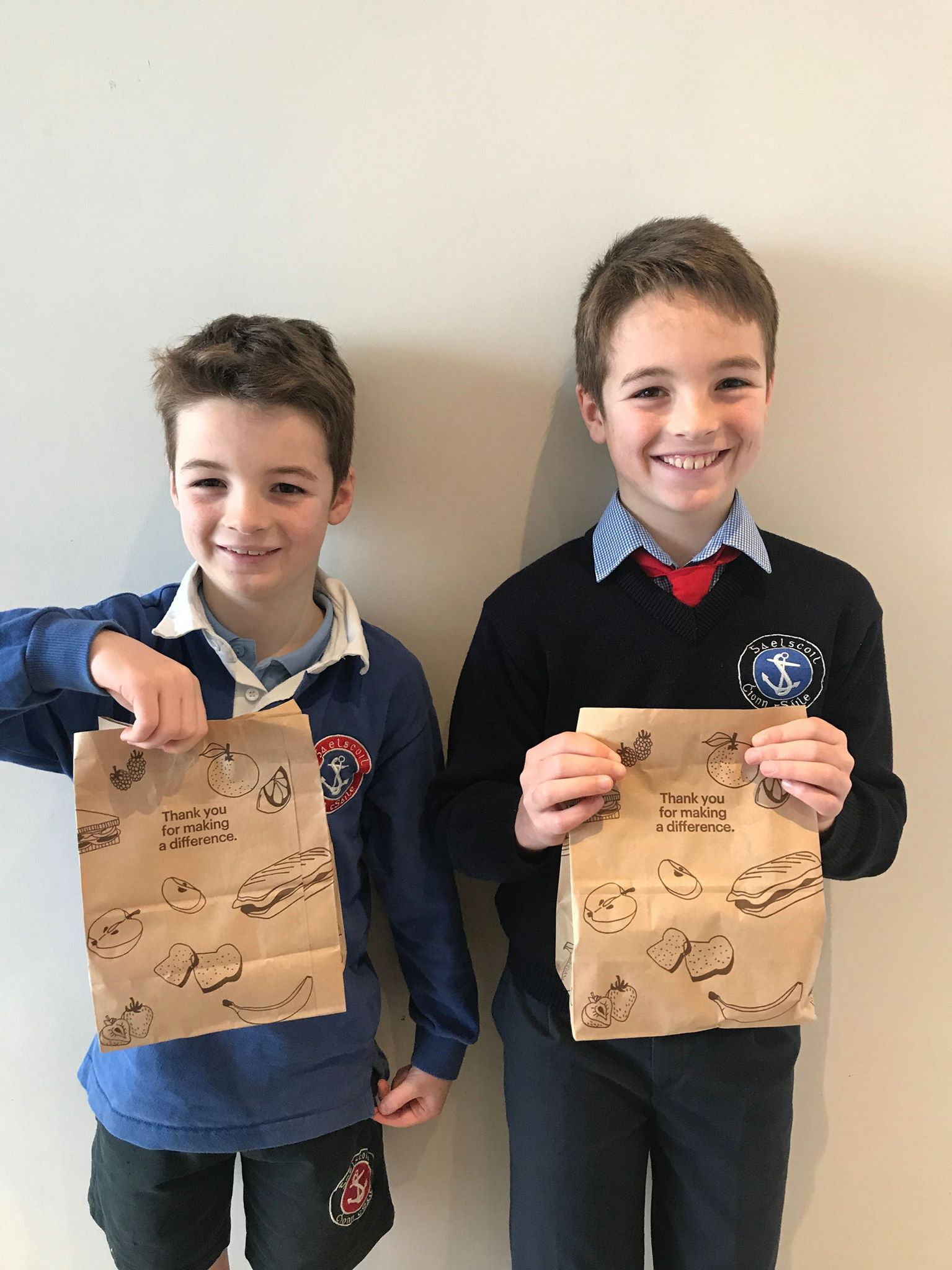 ---
Organise a Workshop
Here are some extra follow up activities:
Hold a school poster competition to highlight plastic pollution and the solutions

Write a letter to an important person in your community to propose a way to reduce single use plastics (e.g. local café, supermarket, St Patrick's Day parade committee)

Design new signs for recycling and rubbish bins in your school

Ask the Green Team to be class champions and remind their classmates about plastic free lunch boxes.

Ask the Parent's Association to implement the school's Plastic Free actions in the activities they organise.
If you want to take this project a step further and create an interactive experience for the students, you can prepare and deliver a workshop, either to each class individually, or at a school assembly, depending on the size of your school. In the resources section you will find a useful guide to help you prepare the workshop, which includes worksheet activities and group discussion.
If you want to organise a visit or get any extra help from Tara and Madeleine, get in touch with them here: [email protected] to discuss further and work out what costs would be involved.
---
Become Plastic Free Ambassadors in the community
Once your school is up and running on its path to becoming a Plastic Free School, it's time for you all to become ambassadors in the community! There are lots of ways to do this, some ideas are:
Link up with your local Tidy Towns group to get them to spread the message and maybe organise a joint clean up in your local area
Link with other schools to encourage them to get involved too
Support those in 6th class to come up with ways to bring the Plastic Free 4 Schools actions into their new secondary school
Replicate the actions in local sports clubs that students are involved with
If you want help from Tara and Madeleine in getting your community involved or you would like them to come to your community for a visit, get in touch with them here: [email protected] to discuss further and work out what costs would be involved.
---