Overview
"True welcoming starts with one person: you. By getting involved in Welcoming Week in your community in Minnesota, you'll be joining a movement of people and places across the U.S. and the world who recognize that immigrants and refugees make our communities stronger. Let's work together to make America the welcoming place we know it can be. Let's roll up our sleeves and all become champions of welcoming. Now is the time! We're here to help you at every stage along the way! " - David Lubell, founder and executive director of Welcoming America
---

Time
Depending on the size of your event, you'll need approximately 4 hours a week to get everything organized ahead of your event.
---
Register your Event
Local events are the heart of Welcoming Week, building stronger communities by bringing together new and U.S.-born residents. You can host a festival, volunteer project, cooking class, or any event that encourages connectivity and dialogue. Welcoming America will give you the tools you need to make it a success.
Once you've registered on ChangeX, you should also register your event on welcomingweek.org so that it is posted on the national map and searchable by others. Through the event portal, you can access Welcoming Week-branded materials at a reduced cost and download print-ready promotional materials.
These are also in the resources section of your ChangeX page: Resources .
When you're registering as a host, you'll be asked to agree to the following host principles:
To conduct an activity that brings together local- and foreign-born community members.
To provide up-to-date information regarding my event, including any changes or cancellations made once our event has been submitted.
To promote the event in my community as part of Welcoming Week, and to do so in ways that promote unity and inclusivity and are in keeping with the Welcoming America brand.
To represent only my organization and not Welcoming America if speaking with the media about my event.
To refrain from promoting any specific policies or conducting any political activities in during my event.
To share information about my event with Welcoming America for reporting purposes.
Register your event now on welcomingweek.org
---
Get Event Inspiration
The key to a welcoming community lies in bringing people together. We encourage you to host an event in your hometown for new and long-time residents to foster understanding, work on a volunteer project, share traditions, celebrate cultures, or whatever else makes sense for your local context. This might be an intercultural dinner, an art exhibition or a sports event, it's entirely up to you!
Some inspiration from around the country:
Denver, CO
A photography storytelling experience, was displayed throughout Welcoming Week. This display was designed to share the stories of immigrants and refugees in Denver. The Mayor of Denver signed a Welcoming Denver Day proclamation during the meeting of his Immigrant and Refugee Commission, a membership group of many prominent refugees in the Denver community
Omaha, NE
Omaha, NE : Throughout September in Omaha, refugee and immigrant community members learned about government, met elected officials, and learned how to use their voices and leadership through the New American Civic Academy. The Quilted Conscience held a week long quilting workshop with Karen students from a local schools. At the end of the week, there was a family day with a quilt unveiling, music, and food.
---
Design & Plan your Event
You can download this full checklist in your pdf guide but here are some of the main points:
Establish a clear purpose - Communicate the purpose of your event in a concise way. Remember, the goal is to have fun and get all the participants to interact with each other.
Identify group volunteer projects - Family-friendly events are highly recommended. Be sure to establish clear communication with a representative from your partner organization. (Ex. Parks and Recreation Department for a park cleanup to provide the necessary tools.)
Identify individuals to participate and lead the event - Make sure you have a clear plan for engaging both immigrants and long time residents in planning and participating in the event.
Make your event known - Create and widely distribute a simple flyer through hard copies as well as email, text, and social media. Start with people you are connected with and ask them to distribute it to their friends and networks. Don't forget to add your event to our map at welcomingweek.org!
Give Back - Set up your Welcoming Week fundraiser by logging on to welcomingamerica.org and creating a fundraiser to share with your attendees.
Press releases - Send press releases to local newspapers (including foreign language papers, if applicable).
Plan the event to encourage new relationships - For example, at a park cleanup you can gather everyone, explain directions, and send people out in small groups with people they don't know. Let the participants know at the beginning that part of the mission is to be meeting new people.
Thank and recognize the participants - Thank them for giving and participating in the event, and ask them for their feedback and future participation. Some volunteers can be asked to take a future leadership role in planning your next event.
Commiting year round - Consider how you and your community can commit to the welcoming movement throughout the year, you can even check out welcomingamerica.org for ideas. You can create a plan to make your school, campus, workplace, or community a more welcoming one; join the Welcoming America network as an organization or local government; or take steps to get your community Certified Welcoming.
---
Show the World You Welcome
Now more than ever, we need to stand up for immigrants and refugees. Show the world that you welcome by using some of the Welcomer materials and sharing your pics on social media.
These multilingual Welcomer signs and Welcoming Week Postcards are a fun and easy way to show community support for everyone, including immigrants and refugees, and lift up our shared values. You can use them before or during your event to build awareness and get more people involved.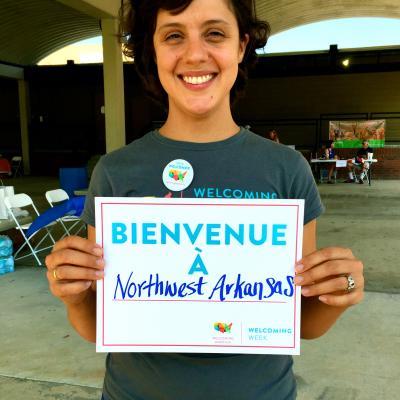 Click the links below to download a Welcomer sign in one of 9 languages or a postcard in one of 8 languages.
---
Join the National Movement
Welcoming America is a national movement and a rich resource on what people and places can do to embrace their newest residents. The national network helps non-profit and government partners transform their communities into more welcoming places for all people, including immigrants. Participating members can connect with peers to share ideas and tools, and receive recognition for their efforts.
Cities or Counties can become part of the Welcoming America Network availing of learning exchanges at national and international levels. Through membership, you'll have access to government leaders across the nation who are creating immigrant-friendly, welcoming communities.
A Welcoming City or County is one that joins Welcoming America and that:
Plans: All relevant sectors, such as government, business, non-profit, and others, work together to create a welcoming community climate that supports long-term integration.
Commits: Municipalities commit to institutionalize strategies ensuring the ongoing inclusion and long-term economic and social integration of newcomers.
Builds Community: Newcomers and long-time residents find common ground and shared leadership.
Communicates: Messages of unity and shared values permeate the community through the media, through the voices of leaders, and among residents.
Sustains: Policies and practices are considered to ensure interactions between new and long-time residents remain positive ones and the community's economic vitality remains strong.
---