Overview
"Welcome to the ChangeX Playworks Guide! We're delighted that you're thinking about getting Playworks started in your school. Here you can learn step by step what's involved. We're here to help at every stage of the process so don't be afraid to get in touch!" - Jill Vialet, Founder of Playworks
---

Time
You'll need 1 week to completePlayworks Training during schoolsummer holidays and after thisPlayworks will become part of yourschool day.
---
Learn more about why it works
Before you decide to get started with Playworks in your school you'll want to know that it really works!
Playworks is an evidence-based program and numerous evaluations have been carried out showing the positive impact including reduced bullying, improved feelings of safety, increased physical activity and more time for classroom teaching. Playworks has been up and running in schools across the US since 1996 and has been implemented successfully in schools in Ireland for 4 years.
You can check out further research on the importance of play on the Playworks website: Further research.
If you have ten minutes, watch this video from Playworks Founder Jill Vialet speaking about the power of play:
---
Get ready for the training
The Summer Course is a week long, in-depth course where you'll get a much deeper introduction and practical insight into how Playworks works and how you can begin to use it on your yard.
In 2019, Tipperary is the only County lucky enough to be getting a Playworks Summer Course. The Course will be delivered by Sean Keelan, a Playworks Trainer based at Playworks HQ in Oakland California, who has been helping schools and teachers deliver Playworks for many years.
The course will take place:
July 1st - 5th Scoil Michael Naofa, Holycross, County Tipperary - 9.30 - 2.30pm
There are a couple of steps you need to complete to make sure you're registered for training
Register with the Tipperary Education Centre who are facilitating and hosting the course
Make sure you complete the 30 Day Challenge on your ChangeX page, when you click on Start Playworks, you'll be prompted through the 30 Day Challenge.

Once you've registered, watch this video to understand what to expect from the course:
---
Complete the Checkup
It can be hard to understand the impact that your play space has on your school's culture and your students' experience. And while there are a lot of solutions worth trying, it's tough to know what's working and what's not.
That's why we've created the Recess Checkup – an online quiz designed to help you identify strengths and uncover areas for improvement. Take our three-minute check-up, and we'll help you understand what's really happening in your play space. And don't worry – we won't share your results with anyone.
The Recess Checkup will lead you through the 3 areas we've found to be most essential for all schools – safety, empowerment, and engagement. Answer questions about what's happening in your school, and see how you're doing and how to take steps to ensure a safe, active, and fun play culture.
---
Attend a Summer Course
It's important to think about how it'll work best in your school and remember that it'll take a commitment from everyone in the school to make sure that the programme has most impact.
Following the training session, you'll also have the opportunity to stay connected with the network of schools successfully using the programme in Tipperary and further afield.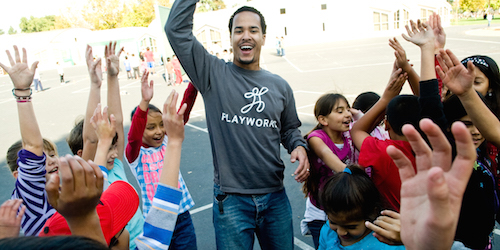 ---
Continue Learning with PlayworksU
Each school that participates in the Playworks project in Tipperary will get free access to PlayworksU for one year. This includes:
Skill-building Courses - 20+ courses, with new content added throughout the year. Each course includes a number of 4 to 5-minute interactive modules with videos, reflection questions, and self-assessments.
Facilitator Guides - Action plans and facilitation guides make online learning a group effort and support school or program-wide consistency.
Printable and Game Videos - Most of our courses help adults build skills, but posters and game videos help students learn too.
Tracking and Assessment - Track progress with course completion history for each user, and use our recess assessment tool to decide where to focus next.

The courses are divided into 4 main areas:

Manage Groups - Struggling with behavior issues in class? Learn how to proactively manage students through play.
Facilitate Games - Need more play in your day? Discover how to use games to reinforce key social, emotional, or academic outcomes.
Resolve Conflicts - Help students resolve their own conflicts before they escalate. Try using the game Rock-Paper-Scissors as a tool.
Build a Better Recess - Helps students discover the joy of active play and come back to class ready to learn.

You'll be given access to your PlayworksU Subscription after your Summer Course

Implementing Playworks in your school will be an ongoing journey and every school's journey is unique! Make sure to schedule regular assessments and meetings of your team to ensure that you're continuing to progress and everyone - children and teachers alike - are having fun!
---