Overview
"Welcome to the ChangeX Eco Beo Guide. We believe that every community, urban or rural, has the potential to use their local area as an 'outdoor classroom'. We've developed a programme that supports teachers to do that. Place-based learning brings great benefits to students, teachers and the wider community. This guide is designed to give you more information on the programme and we're looking forward to supporting you to get started." - Brendan Dunford, Founder of BurrenBeo Trust
---

Time
The full course takes place over a 20 week period but you can adapt as necessary for your school.
---
Questions to get started
You don't have to be in the Burren to start bringing place into your teaching. In fact you can be in any setting in Ireland or beyond. Burren Beo have developed some handy resources to help you start implementing place-based learning in your own setting. Below is a list of questions you can use to start a local place study with any age group. The resource handbook which supports this details some activities which can be undertaken to enable students to explore and engage with their place. These have been developed to complement the annual summer training courses which any teacher or educator can attend.
Below is an image with a breakdown of the questions you can use to start a local place study with any age group.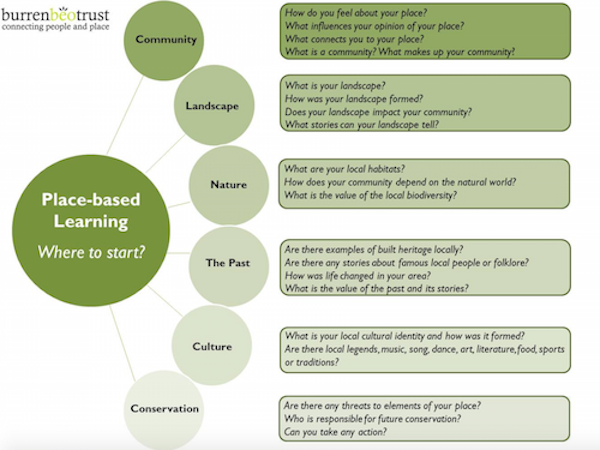 ---
Explore the Resources
Eco Beo have developed a resource handbook which details activities that can be undertaken to enable students to explore and engage with their place.
There is also a series of short introductions on how you can teach local archaeology, geology, biodiversity and culture in your classroom no matter where you are. The podcasts are roughly 5 minutes each and free to view. Watch the first one below to get you started and you can find the full list of resources here
Using your local place as a teaching resource – an introduction
2. Local landscape in the classroom
3. Local built heritage in the classroom
4. Local people and place in the classroom
5. Local biodiversity in the classroom
Access all of the resources here: (Resources)
---
Do some local research
You may need to do some research locally on the various themes unless you already have a pretty good understanding. A good place to start may be some local experts or groups that are already involved in the areas e.g. local heritage or environmental groups.
Don't worry though you don't need to be an expert in any of the areas. It can be a learning journey for both you and the kids!
---
Plan the course
The Eco Beo course is usually delivered over 20 weeks with fortnightly lessons, this includes time for projects and field trips. You might want to follow this timeline or you could get started with a mini- version, e.g over the course of 8 or 10 weeks.
All Eco Beo lessons have been designed to map elements of the primary school curriculum so once you decide what the outcomes you want to achieve for your school are, you'll be in a better position to plan the course. Someone from Eco Beo can give you support at this stage helping you plan in the best way.
---
Further training & support
This guide is designed to give you an introduction to the world of Eco Beo and place based learning. There is a lot more training available through the Burrenbeo Trust including a summer course for teachers which takes place in the Burren and an annual Learning Landscape Symposium.
The Learning Symposium took place in the Burren from March 9th-11th 2018, but you can find the report from the event here
The Summer Course 2018 is a DES approved 5-day summer courses on the 2nd-6th July and on the 9th-13th July 2017. You can find out more information here and bookings will open at the end of April.
The objective of this course is to provide primary schoolteachers, other educators, and people with an interest in place-based learning with some simple strategies and resources through which they can effectively integrate the learning resource of their local environment into the school curriculum.
You can sign up for 2018 in April - in the meantime, (register your interest here) and we'll be in touch to help you get started!
---