5 Step Guide to
TechSpace
Overview
"Welcome to TechSpace, a national movement that aims to change the lives of young people in Ireland by becoming the leading creative technology network for outcome-focused youth development. Over 60 TechSpaces have sprung up in youth organisations for young people to gain experience on a variety of innovative technology projects, including soldering, robotics, film, photography, music and game design. Find out here how you can get involved with TechSpace now! " - Steven Daly, Camara Ireland
---

Time
Initial training is one day and TechSpace typically runs for 2 hours after school once a week.
---
Research and Learn More
Before getting started and deciding to bring TechSpace to your community, you'll want to learn a bit more about the programme and how it'll work in your local area. You can download a full information pack here which will give you all the introductory information you need!
Next, it's a good idea to find out what's already happening in your area related to creative technology / STEAM education. Approaching your local youth organisations to get an understanding of what they're currently doing or what they feel the needs are will be really helpful. Get in contact with your local youth club, it might be a Foróige club, a NYCI club or there may be activities happening in your local secondary school.
---
Build your Team
To run TechSpace locally, you'll need to build a small team to help you get started. The most important part of this will be teaming up with a local youth organisation. You might already work with or volunteer in a youth organisation or maybe this is your first interaction with your local youth club. Either way is absolutely fine but your local youth club will be your most important ally in getting programme up and running. The reason for this is that an existing club will have the staff, infrastructure and governance needed to work with young people, making your life a little easier so you can just concentrate on the fun stuff :)
If you're not already involved in a youth club, find out who is involved and tell them a little bit about your idea to bring TechSpace to your community. Bring along the information pack you downloaded in Step 1 as this will give them the information they need to make a decision and hopefully give you the help and support you need to get TechSpace going. Remember, youth clubs are always looking for new and exciting ways to work with young people and TechSpace is a proven model that has already been successful all over Ireland so having an enthusiastic volunteer like you approach them will be very welcome!
Your local youth club will need to dedicate one paid member of staff to become the TechSpace contact. This person will help to coordinate training and become the contact person for the national TechSpace network. This person can ensure that the organisation is fully compliant with the Child Protection Policies and Garda Vetting Legislation.
When up and running, you'll also need technical volunteers. The skill-sets needed are outlined below. Have a think if you know of people with these skill-sets that would like to help young people? Don't worry if nobody comes to mind just yet, you can advertise locally through social media and with the help of your local youth club to find the right people!
You can register for your free local ChangeX page here to help with building your team and organising volunteers.
---
Attend an Information Session
Once you know exactly what's involved and your team is in place, now is the time to attend an information session with the TechSpace team. Depending on your location, this can be done remotely through Skype or else in person. This is a one hour session that will go through all the training and support options that TechSpace will provide for you as well as giving you the opportunity to ask questions and find out everything you need.
---
Complete training and get your equipment
The final thing to do before you can get started is to complete your training and get the equipment you need. There is a cost involved in both and the TechSpace team will help you to put the funds you need in place.
Training takes place in person and the TechSpace team will come to you to deliver training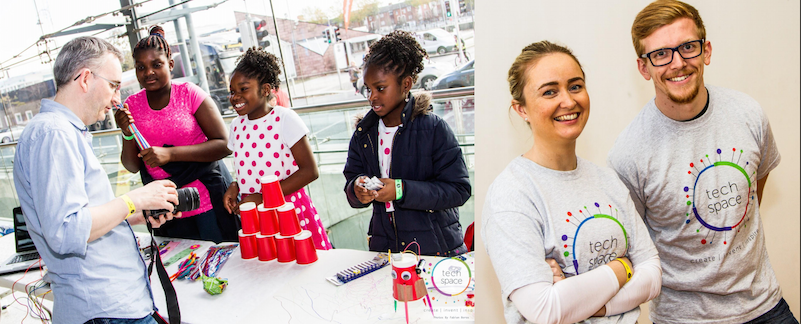 ---