5 Step Guide to
DabbledooMusic
Overview
"Welcome to DabbledooMusic and the creative revolution in music education! We aim to provide accessible music education for teachers and children everywhere. Here you'll find an overview of the different ways you can bring DabbledooMusic to your classroom." - Shane Mc Kenna, Founder of DabbledooMusic
---

Time
The time required will depend on which option training option you choose. You can get started by testing our lessons with a free trail and eventually teach a lesson per week with our full curriculum content.
---
Test out the resources
DabbledooMusic.com has over 40 interactive resources and activities designed to get children learning about music and making music in the classroom.
The resources take users step by step through the music curriculum covering all areas of the three strands; Listening, Performing and Composing.
The resources are divided into 5 areas, each one introducing different musical concepts, through activities and fun musical characters.
Find the free resources and test them out right here by enrolling in dabbledoo.com: Go to Resources on dabbledoo.com
---
Sign up for a course
Once you've had a look at the resources, you'll probably want to learn more so that you can start using the tools in your classroom.
The DabbledooMusic team offer CPD courses all over the country so that you can get fully introduced to the programme and begin using it!
This Spring, evening courses will take place in the following Education Centres:
Wexford
Laois
Blackrock
Dublin West
Mayo
Sligo
Navan
Monaghan
Drumcondra
You can find a full list of courses in our Resources Section
Sign up here to get started and we'll keep you posted on all upcoming events:
here
---
Run your first lesson
Now that you're familiar with the resources and you've learned exactly how Dabbledoo works, you can begin integrating it into your school week. Teachers using the programme typically spend a 30 minute lesson each week on music.
You can use Dabbledoo games and resources using your interactive whiteboard and the lessons are designed to help you fulfil the goals and objectives of the primary school music curriculum. Here's an example of what the lessons look like: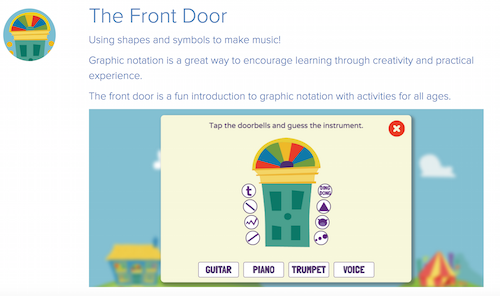 ---
Request a workshop
DabbledooMusic Workshops are the perfect way to introduce DabbledooMusic to your school, both to other teachers and the children. Shane from the Dabbledoo team will come to your school and facilitate the workshop which can be tailored to your school's needs including time spent in class with the kids demonstrating exactly how the programme works and after-school workshops for teachers.
---
Sign up for the full curriculum
The Full Primary Music Curriculum is designed to be used by the whole school and includes:
Online training and support for teachers.
Full access to online resources and activities.
Full schemes of work and weekly lessons delivered to each teacher.
Downloadable worksheets, posters and books.
Seasonal and topical music lessons delivered throughout the year.
Special courses for resource teachers.
The full curriculum covers all classes from junior infants to 6th class and features music resources and activities that will have the entire school making music every week. It also provides weekly lesson plans, lessons and schemes of work for each individual teacher delivered through email to assist term and yearly planning.
Each week is laid out step by step ensuring that the full range of musical concepts are covered each year.
The full curriculum costs €520 a year and you can enroll and find out more here
---